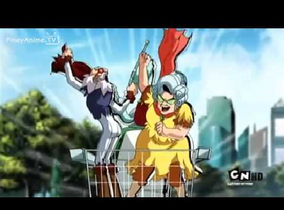 The Granny is a Recurring villains she may be old but is armed with nodding needle numb chucks She appeared first in Old School then Returned in Operation Senior Spy She is Vocied by Mary Long
Biography
Edit
The Granny has to friends Bubbi and Papa When strange weather patterns cause an overall rise in global temperature, the Spiez are sent to investigate. They find that all the phenomena are artificial, and have been caused by the dangerous escaped villain: The Granny. The Granny's plan is to cause a global warning because the years spent in the WOOHP Assisted Living Facility have caused her old bones to become brittle. It's up to the Spiez to stop the Granny and her comrades from irreversibly heating up the Earth. In Senior Spy The Granny is back as a WOOHP villain consultant. The Clarks must go and check up on Dr. Brathwaite, to see if she's up to her old tricks. The spiez discover she's trying to combine her DNA with plants but it poses no threats as Dr.Brathwaite has no money to fund her research. The spiez leave but as soon as they are back at WOOHP must leave again to investigate the robbery of a gold reserve, the villain has a resemblance to the granny but isn't her. The spiez return to Dr. Brathwaite's house to overhear that Dr. Brathwaite has made the Granny young again, the Granny quickly defeats the spiez and leaves to "re-live her youth", Dr. Brathwaite combines her DNA with the plants and devours the spiez.
all three of whom appeared in the Totally Spies! episode "The Granny": And Sam, Clover, and Alex are mentioned by Granny as "those girly spies WOOHP sent after us".
Plus when Sam, Alex, and Clover were being briefed about granny, Alex said she should call her own Granny just as Tony said that they should visit their Granny)
Ad blocker interference detected!
Wikia is a free-to-use site that makes money from advertising. We have a modified experience for viewers using ad blockers

Wikia is not accessible if you've made further modifications. Remove the custom ad blocker rule(s) and the page will load as expected.