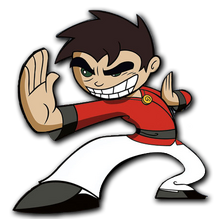 Raimundo Pedrosa is one of the four protagonists of Xiaolin Showdown. He was the Xiaolin Dragon of the Wind, having originally joined the Temple from a circus in Brazil.
After three years of working with the monks in defending the world from evil, Raimundo was promoted to the rank of Shoku Warrior, resulting in him gaining full leadership of the team. He is voiced by Tom Kenny, who also voices SpongeBob SquarePants.
Ad blocker interference detected!
Wikia is a free-to-use site that makes money from advertising. We have a modified experience for viewers using ad blockers

Wikia is not accessible if you've made further modifications. Remove the custom ad blocker rule(s) and the page will load as expected.