This is Episode of 19 of Season 2
Jerry is going to a spy conference but accidentally bumps his head and forgets who he is (Being head of WOOHP), and the Spiez are temporarily head of WOOHP. Tony accidentally lets Sherry out of the WOOHP Holding Facility. She and Jerry bust Terrence out of WOOHP Prison. When The Spiez! relies that Sherry escaped They set of to stop them from Breaking Terrence out of WOOHP Prison when they find Jerry, Sherry and Terrence walking in the hallway the spiez ask what are you doing with them Sherry said They are Evil Spiez! to trikes you They battle the spiez and Terry and Sherry beat them because they were using gadgets and capture them in ICE. In the B-story, Tami has to stay with the spiez, finds about WOOHP and gets turned into a spy-sassin.
This is a Part 1 of the 2-Part Episode
Terrence is appeared from Totally Spies Vocied by Pete Capella
Villain: Sherry(3) Terrence(1) Jerry(Bumped his memory and forgot who he is)
This Marks the Return of Sherry
This is one of the episodes that have Only aired ones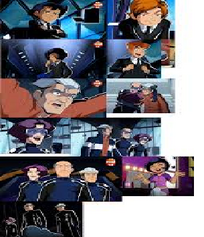 Ad blocker interference detected!
Wikia is a free-to-use site that makes money from advertising. We have a modified experience for viewers using ad blockers

Wikia is not accessible if you've made further modifications. Remove the custom ad blocker rule(s) and the page will load as expected.