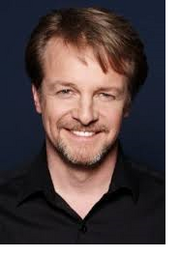 Andrew Sebastion is a Canadian Actor he known for vocies Lee in The Amazing spiez Born in British Columbia.
Biography
Edit
Andrew Sabastian (born February 8, 1965 in Victoria, British Columbia) is a Canadian actor, theatre and television writer, and lyricist. He went to St. Michaels University School in Victoria, British Columbia, graduating in 1982[citation needed]. After graduating he starred as Tom Edison on the Nelvana educational series The Edison Twins. He wrote the lyrics and co-authored with composer Timothy Williams the book for the musical Napoleon which was first produced in 1994 at The Elgin Theatre in Toronto. It was subsequently produced in 2000 at The Shaftesbury Theatre in London. In 2009 a new version, with a new book and several new musical numbers was first presented in concert at TIF Theatre. Other lyric writing credits include, for film and television, Franklin and the Turtle Lake Treasure and Strawberry Shortcake: Seaberry Beach Party. Since 1984 he has been an animation voice actor with many episodes of television animation, as well as feature films. Leading roles in animation and other-format television series include The Amazing Spiez!, Bo on the Go!, Toot & Puddle, Harry and His Bucket Full of Dinosaurs, What It's Like Being Alone, Little Bear, Polka Dot Shorts, and Droids. In 2007 he began writing scripts for various television series, such as Lunar Jim, Turbo Dogs, Bo on the Go!, and Animal Mechanicals.
Performances
Edit
Super Mario World - Yoshi
Polka Dot Shorts - Polkaroo
Little Bear - Cat
Mike the Knight - Squirt
Donkey Kong Country - Diddy Kong
Bakugan: Gundalian Invaders - Avior
BeyWheelz - Ryan Gladstone
Bo on the Go! - Dezadore "Dezzy" Dragon
Rescue Heroes - Bob Sled
Rescue Heroes: The Movie - Bob Sled
The Amazing Spiez -Lee (2009-2012)
Persona 4 - Teddie
Ad blocker interference detected!
Wikia is a free-to-use site that makes money from advertising. We have a modified experience for viewers using ad blockers

Wikia is not accessible if you've made further modifications. Remove the custom ad blocker rule(s) and the page will load as expected.